Child Trailers Unavailable for 2023 Season
Due to new insurance regulations, child trailers will not be available to rent for the 2023 biking season. We hope to have them available for the 2024 season. Pet trailers and cargo trailers are still available.
Trailers by Burley and Allen
Burley Tail Wagon | Nomad Cargo Trailer | Allen Child Trailer | Burley Child Trailer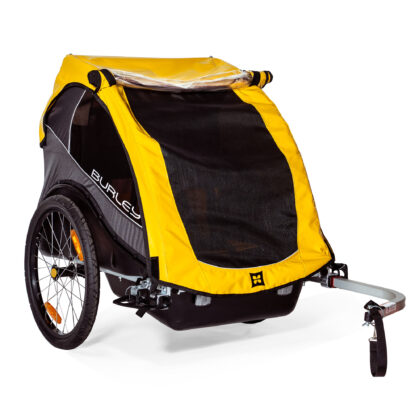 Bike Trailer Rentals for the Trail of the CDA's
Don't leave your precious cargo behind! Whether its your dog, your child, a tent, or simply extra snacks – we have the right bike trailer for you. Choose from our luxurious Burley Pet, Cargo, and Child Trailers. Looking for something more economical? Our Allen Child Trailer is a great option for a single passenger. Universal couplers mean our trailers can fit on most acoustic (non-electric) bikes, and in some cases electric bikes as well. Bring the whole family on your next Coeur D Alene adventure!
Burley Tail Wagon
Take your best friend on the ride of her life!

Price: 2hr: $20 | 3hr: $25 | 4hr: $30 | 8hr: $40 | 24hr: $47.50 | Multi-day: $37.50/day
Weight: Up to 75lbs
Nomad Cargo Trailer
Carry all your gear on a multi-day adventure!

Price: 2hr: $20 | 3hr: $25 | 4hr: $30 | 8hr: $40 | 24hr: $47.50 | Multi-day: $37.50/day
Weight: Up to 100lbs
Allen Child Trailer
A lightweight child trailer ideal for 1 child.

Price: 2hr: $15 | 3hr: $20 | 4hr: $25 | 8hr: $35 | 24hr: $42.50 | Multi-day: $32.50/day
Weight: Up to 75lbs
Burley Child Trailer
A heavy duty child trailer ideal for 2 children.

Price: 2hr: $20 | 3hr: $25 | 4hr: $30 | 8hr: $40 | 24hr: $47.50 | Multi-day: $37.50/day
Weight: Up to 100lbs