Trail of the Coeur d'Alenes
13326 S Ruddy Duck Rd, Medimont, ID 83842
Restrooms | Picnic Tables | Plenty of Parking
On a hot summer day the Medimont Trailhead is a welcome relief for riders coming from Black Rock. The trailhead is in a shaded cool area on the banks of Cave Lake. The trailhead features abundant parking, picnic tables, and restrooms. 
If you're driving to the Medimont Trailhead, it can be a little tricky to find. It's very important to look for the brown trailhead sign with the Trail of the CDA logo on Highway 3.
From I-90, take exit 34. Head south on Hwy 3 for 11 miles. Turn right on E Rainy Hill Rd. Turn right on S Medimont Rd. Take a slight left on S Ruddy Duck Rd to enter the trailhead parking lot.
After you turn off the highway, much of the road is unpaved and bumpy. Although the trailhead is a through road, the turning radius at the exit is very sharp making it not ideal for large vehicles, RV's, or trailers.
The trailhead features a beautiful view of Cave Lake and is an ideal place to stop for a picnic lunch. Medimont is one of the few areas that offers camping very close to the trail. Camp sites are available at the nearby Rainy Hill Campground. The campground is fairly primitive.
Medimont Trailhead is not a Cycle Haus shuttle stop.
The Ride - Medimont to Harrison
The ride from Medimont to Harrison takes you through the heart of the Chain Lake region. By the time you arrive in Harrison you'll have passed 7 lakes along with the Coeur D Alene River itself. This unique interconnected ecosystem of lakes, wetlands, streams and the river makes this area prime for wildlife viewing.
It is common to see moose on this part of the trail. They often wade in the wetlands or stand at the river bank. Sometimes they'll just stand in the middle of the trail to let you know whose boss. If you encounter a moose, they should be viewed at a distance. They are generally not aggressive unless they feel threatened. If a moose is standing on the trail, do not attempt to ride past it. Simply wait for it to leave.
South of Black Lake, you'll notice one of the most ambitious wetland restoration projects on the trail. Previously a cattle ranch, this area was purchased by the State of Idaho and is being returned to its natural state. 
This section of trail is also home to hundreds of bird species. The final lakes on the Chain Lakes, Anderson and Thompson Lakes, are a premier area for viewing birds. The Thompson Lake Wildlife Refuge is also located nearby. The refuge cannot be accessed from the trail but is a short drive from the Town of Harrison. For bird enthusiasts, The CDA Audubon has compiled a checklist of the dozens of bird species that can be viewed from the Trail.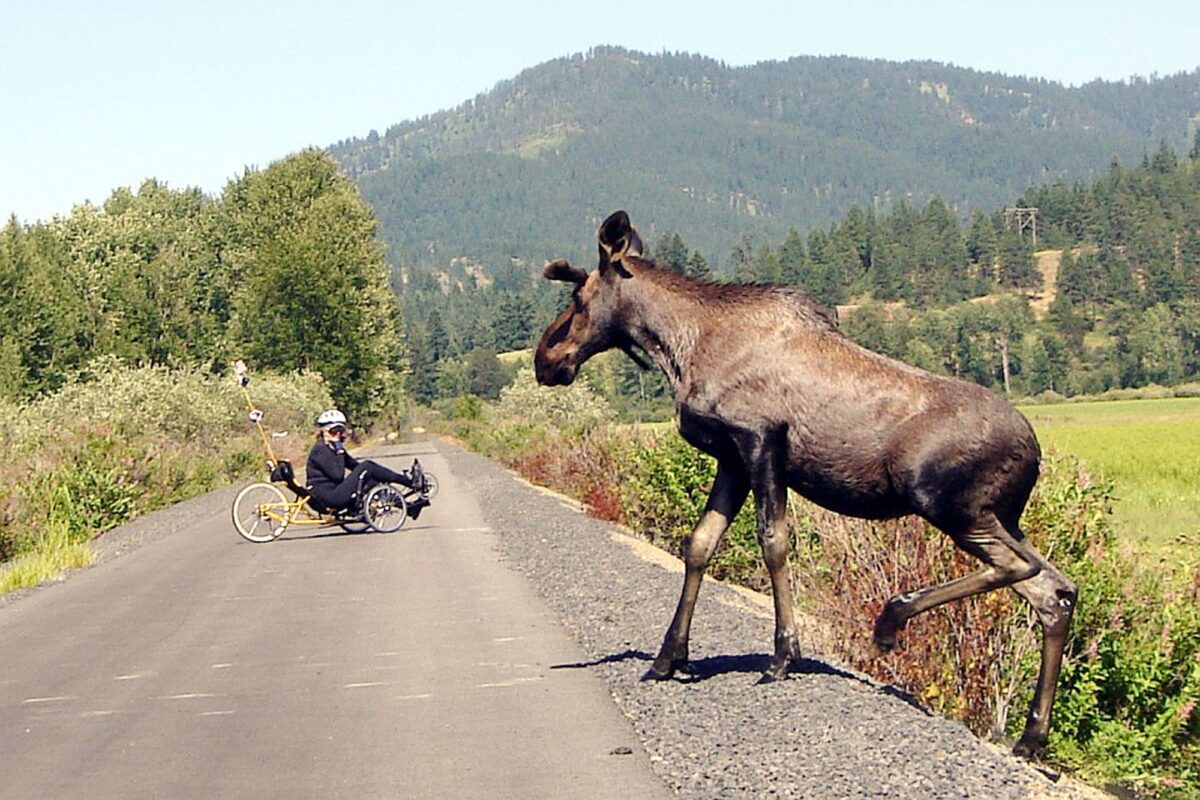 More Trail of the CDA's Adventures