Trail of the Coeur d'Alenes
Heyburn State Park & Trailheads
Chatcolet Lower Rd, Plummer, ID (Approximate)
Lots of Parking | Restrooms | Picnic Shelters | Beach
Once pitched to congress to be Idaho's first National Park, Heyburn became Idaho's first State Park in 1908. Heyburn's boundaries include 5744 acres of land and 2332 acres of water. It stretches nearly the entire boundary of Lake Chatcolet.
Heyburn is a great option for camping or lodging on the Trail of the Coeur D Alenes. Although there are 3 campgrounds within the park, The Chatcolet Campground is the most accessible to cyclists who don't wish to use their vehicle to get to the trail. Looking for a unique experience? Try one of Heyburn's cottages or cabins.
Along with Harrison, Heyburn is a great place to enjoy Lake Coeur D Alene. The Plummer Point Day Use Area is a fun spot to enjoy a swim in the lake or simply relax and take in the scenery. If you're staying multiple days, bring your kayak or canoe to explore the lake.
Heyburn is also home to multiple hiking and equestrian trails. If you are looking to take a multi-faceted vacation with cycling, hiking, swimming, and boating then it truly doesn't get much better than Heyburn.
Heyburn State Park is home to two trailheads: The Chatcolet Lake Trailhead and the Plummer Point Trailhead. The Chatcolet Lake Trailhead is a little further to get to, but provides abundant parking and is very close to the Chatcolet Bridge.
It should be noted that Heyburn's trailheads are not ideal for those coming from Montana or the Silver Valley. The trip through St Maries, around Lake Coeur D Alene, and across Hwy 5 is lengthy. We recommend parking in Harrison instead and riding to Heyburn.
If you're coming from Spokane or Coeur D Alene, take US 95 South in Coeur D Alene. Take a left at West Conkling Rd. Conkling Rd drops you into the park and leads all the way to the Visitors Center. To reach the Chatcolet Lake Trailhead, take a hard left on Chatcolet Lower Rd prior to reaching the Visitor's Center. The Plummer Point Trailhead is located right on Conkling Rd prior to reaching the Visitor's Center.
Streetview: Heyburn Trailhead, Plummer ID
The Ride - Heyburn to Plummer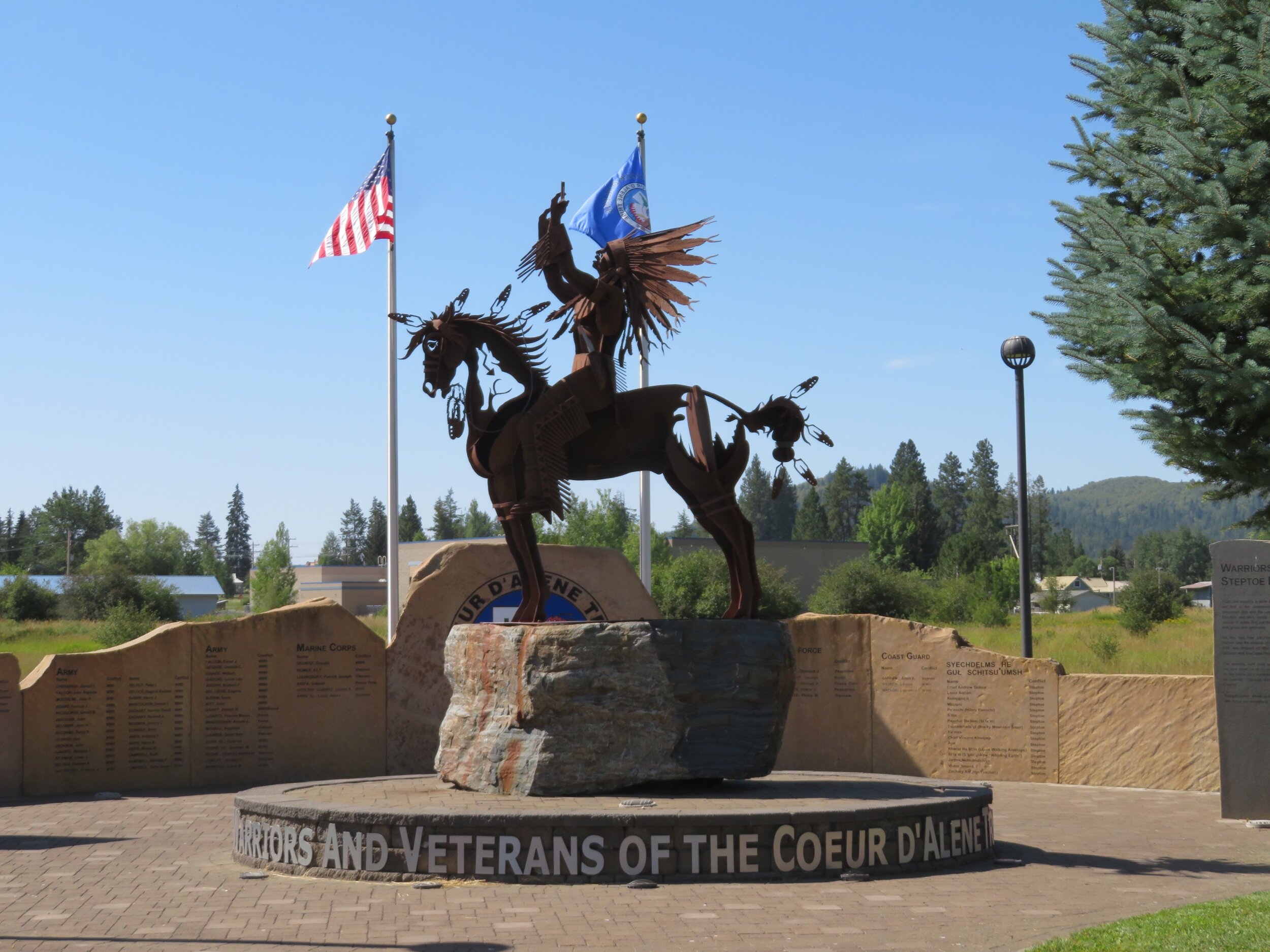 The ride from Heyburn to Plummer is a unique ride on the Trail of the Coeur D Alenes. Apart from being only one of two hills on the trail, it also takes you through a forested landscape with ravines and canyons, something unique to this section of trail. The trail ends by giving you a glimpse of the Palouse, one of the most fertile farm regions in the world.
Obviously, the reverse ride from Plummer to Heyburn is a blast. Sit back, relax and swoop through the forested hillsides. Going westbound though, you need to have a little bit of perseverance. The hill is approximately 5 miles long and has no more than a 3% grade. Its a workout but its no gulag.
If you're riding this section of the trail with an E-bike, make sure to consider your battery life. Uphills can drain batteries substantially faster than flat surfaces. We recommend not using your throttle in this section and maintaining your pedal assist in the 1st or 2nd position (eco modes). This will help preserve your battery for the rest of your ride.
The last few miles of the trail takes you through some of the residential, commercial, and industrial areas of the town of Plummer. 
396632 US-95 Plummer, ID (Approximate)
Easy to Find | Ample Parking | Restrooms | Picnic Shelters | War Memorial

The Plummer Trailhead blew away the competition in the Best Trailhead category. The Coeur D Alene Tribe has done a spectacular job making this trailhead one of a kind. The trail is truly more of a park than a trailhead. It features large grassy areas, picnic tables and shelters, restrooms, a bike fix-it station, and an abundance of parking. 
The Plummer Trailhead is also home to the Warriors and Veterans of the Coeur D Alenes monument. This stunning statue and memorial pays tribute to the dozens of Coeur D Alene Tribe members who gave their life fighting both for and against the United States Military. 
The Plummer Trailhead is located on US-95 just North of the town of Plummer. From Spokane or Coeur D Alene, take US-95 South in Coeur D Alene. Go past Worley, and just before reaching Plummer, turn right onto Annie Antelope Rd into the trailhead parking lot.
There are convenience stores and a fast food restaurant just a short walk from the Plummer Trailhead in downtown Plummer.
Streetview: Plummer Trailhead, Plummer ID
Google Map: Plummer Trailhead, Plummer ID
More Trail of the CDA's Adventures